Advantages of phased array technology
High-speed testing;
improved detection of defects;
visibility of testing results presentation;
implementation of various sound schemes;
ordinary testing of irregular-shaped objects;
simplified scanning process.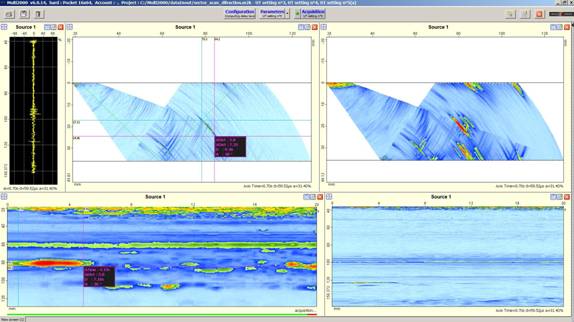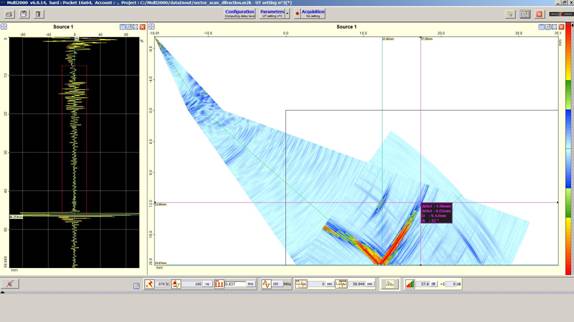 Main specifications

General characteristics

Operating frequencies of phase array probes
2.5, 5 MHz
Max. number of elements in the phased array
64
Max. number of elements in an active group
16
Focal Laws

Linear scanning with / without focus
Sectorial scanning with / without focusing
Combined scanning with / without focusing
Implementation of other laws

Data display:

A-Scan
S-Scan
B-Scan
C-Scan
D-Scan
Amplitude diagrams and etc.

Registration of testing process and results
100 %
Reception path
Bandwidth of reception path
1 – 10 MHz
Dynamic range of gain adjustment
86 dB
Gain step
0.4 dB
DAC gain curve independently by each channel
+
Pulser path
Type of pulser signals
Rectangular pulses
Amplitude (voltage) of initial pulse
from  10 to 80 V with a step 10 V
Pulse length:
from 20 to 1275 ns, with a step
Delay within one pulsing:…
from 0 to 8 ms
Delay adjustment step, no more than
10 ns
Accurate adjustment step, no more than
1 ns
Pulse repetition frequency
from 30 Hz to 30 kHz
Pulsing synchronization
from encoder, by time and from external source
Delivedry set for phased array ultrasonic flaw detector Sonocon Focus

Basic version.Far-abroad countries
 Electronic unit of the flaw detector with a storage battery
1 pc.
 Piezoelectric probes:

Probe 2,5L16-1.0×12
Probe 5L16-0.6×12
P111-2.5-К12-048
P112-5-10/2-Т-048
P121-2.5-45-М-048

-

1 pc.
1 pc.
1 pc.
1 pc.
1 pc.

Storage battery
1 pc.
Mains-powered unit 220 V
1 pc.

Complete set of cables

1 pc.
Software
1 pc.
Registration certificate (operation manual)
1 copy
Certificate of metrological certification nad verification of the flaw detector
1 copy
Uninterruptable power supply
1 pc.
Basic version. Far-abroad countries