PURPOSE:
"UT basic" software version:
Manual ultrasonic testing of defects such as discontinuity and inhomogenuity of material of finished items, semi-finished products and welded (soldered) joints;
measuring the defects depth and coordinates;
assessing the sound velocity in different materials;
measuring the equivalent defect sizes;
measuring the ratio of signal amplitudes, reflected from defects.
"Thickness gauge +" software version:
Measuring the products thickness at one-sided access to them;
saving of thickness measurement results to structured multi-dimensional files;
bulding of thickness B-Scans and C-Scans;
measurements on thickness B-Scans and C-Scans.
Main modes and options:
"UT basic" software version:
Pulser modes: spike pulser, square wave pulser.
Automatic algorithms of various probes  calibration (straight-beam, angle-beam, rayleigh-wave).
Mode of automatic building of DGS diagrams simultaneously for three different acceptance diameters.
DAC modes: building DAC curve according to EN1712, EN1713, EN1714, ASTM E164, ASME, ASME III, JIS 23060, GB4730, GB11345.
TCG: dynamic range of 110 dB.
Mode of Automatic Gain Control (AGC).
Acoustic coupling control.
Mode of high-accuracy thickness measurement of a product with the application of a measurement marker.
"Legs marking" mode (applied during welded joints testing).
"Peak hold" mode - peak value of the signal envelope accumulation, this mode is indispensable during small defects search and operation in unstable acoustic coupling conditions.
 Two independent measurement gates with three alarm levels.
Different rectification modes - radio frequency (RF), positive or negative halfwave, full-wave.
Fast data transmission to PC via USB using USB Flash.
Result display: A-Scan, B-Scan. C-Scan ("Thickness gauge+" version).
Testing report in a form of *.jpg
Temperature range: from minus 25 to plus 50 0 C.
"Thickness gauge +" software version:
Automatic algorithms of straight-beam probes calibration (single and dual element).
Mode of probe zero express calibration of straight-beam dual element probes "exposed to air".
Measurement mode by zero crossing the first negative half-wave of the echo-signal.
Acoustic coupling control.
Building the thickness B-Scans and C-Scans bound to the scanning coordinate (in case of scanning device usage).
Alarm zones highlights mode according to the set values of minimum and maximum allowed thickness of the test object.
Saving the thickness measurement results in multi-dimensional files on the basis of user defined templates.
Creation of database of measurement results and used probes.
Fast data transfer to PC via USB using USB Flash.
Results dispaly: A-Scan, B-Scan and C-Scan.
Synchronization: internal (time), Encoder (up to 2 encoders connection).
Sonocon B advantages:
ERGONOMICS

Optimal dimensions and display format of 800×480 pixel resolution ensures qualitative data separation and its perception and does not cause excessive eyestrain to NDT inspector.
Convenient case and small device weight allow to use the flaw detector in enclosed spaces and hard to reach areas.
All main instrument settings are  accessible with keypad shortcuts and "Quick Access Menu".

MULTIFUNCTIONALITY

Carrying out the flaw detection, thickness gauging, sound velocity assessment in different materials.
Availability of various flaw detector software versions ("firmware upgrade") for solution of special-purpose testing tasks.
Operation with all probe types.

INDIVIDUAL DELIVERY SET

By agreement with the Customer the flaw detector can be completed with different probes, calibration blocks and software for operation in different industrial sectors.

PROTECTION LEVEL AND OPERATING CONDITIONS

Flaw detector case protection level – IP65.
Flaw detector is resistant to ionizing radiation impact and is meant for operation in increased humidity conditions.
Operation temperature range is from minus 30 to plus 50°C.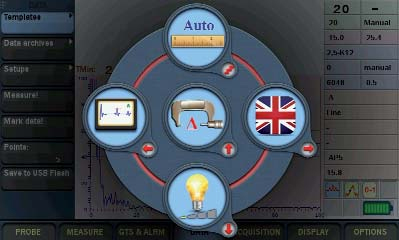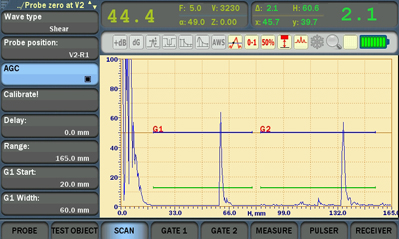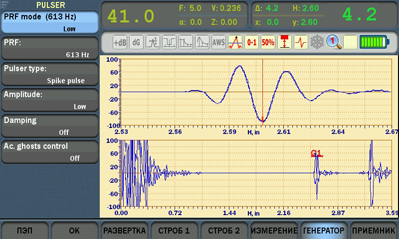 SONOCON B Main Specifications ("UT Basic" software version)

1.
  Display screen
Color TFT (800 × 480) display, screen size 97 mm x 60 mm.
2.
  Results display
A-scan, simultaneous display of up to 5 measured parameters selected by the user. Additionally, building the thickness slice and / or map for "Thickness gauge +" version with affixment to the scanning path coordinate of the probe.
3.
  Bandwidth
from 0.2 to 27 MHz. Possible set values of the probe operating frequencies: 0.4; 0.1; 1.25; 1.8; 2.0; 2.5; 3.0; 4.0; 5.0; 6.0; 7.0; 8.0; 10; 15 MHz and broadband mode (0-20) MHz.
4.
Initial pulse
Pulsing amplitude: 200 V / 20 V.
Initial pulse width is set automatically depending on the set operating frequency of the receiving path.
5.
Initial pulse repetition frequency
from 30 to 1000 Hz with the step resolution of 1Hz.
6.
Gain
from 0 to 110 dB, with 0,1 dB step.
7.
Measurement of defects occurrence depth and coordinates (for steel)
from 1 to 8000 mm.
8.
Thickness measurement range of products
from 0.6 to 6000.0 mm.
9.
Measurement range of reflector equivalent diameter /area
from 1 to 20 mm / 0.8 to 314.0 mm2 .
10.
Sound velocity range
from 1000 to 10000 m/s, with the step of 1, 10, 100, 1000 m/s.
11.
Probe angle
from 0 to 900 with the step of 0.1; 1.0; 10.0.
12.
Reject (cut-off)
0-80% FSH.
13.
TCG and DAC

range is up to 110 dB;
number of points is 32;
building TCG curve by DAC.

14.
DGS

automatic building of up to 3 curves for different equivalent diameters;
calibration at calibration blocks and testing objects;
building TCG curve by DGS.

15.
Rectification
    RF, FW, Pos.HW, Neg. HW.
16.
Measurement gates

 two independent three-level measurement gates;
 additional gate for acoustic coupling control;
 special-purpose gate of the Automatic Gain Control (AGC).

17.
Automatic flaw alarm
Sound, light, visual
18.
Evaluation of echo-signal parameters

measuring the absolute distance from the initial pulse to the signal in the selected measurement gate or relative distance between the signals in two gates;
measuring the absolute and relative signal amplitude respectively to the screen center or 80 % of the screen or active gate level taking into account TCG;
measuring the defect coordinates;
measuring the product thickness at one-sided access to it with the resolution of 0.01 mm;
measuring the equivalent area and equivalent diameter of defects.

19.
Built-in memory
Micro SD card 8 Gb is used for saving the testing setups and testing results.
20.
Connectors
(2xBNC); USB-2.0: USB type А, mini USB type B; encoder Lemo, headphones Lemo.
21.
Power supply
Storage battery 12V/4500 mA ·h (easily removable);
Mains charger Mascot 2542 12, 6 V, 2.3 А.
22.
Operation time
Operation time from the battery is not less than 8 hours.
23.
Operating temperatures range
from minus 30 0С to plus 45 0С.
24.
Dimensions (H x W x L)
241 mm x 112 mm x 134 mm.
25.
Weight
0.95 kg incl. battery.
DELIVERY SET OF ULTRASONIC FLAW DETECTOR  (with thickness gauge function)
Basic version. Far-abroad countries
Name and designation
Quantity
Notes
Electronic unit of flaw detector Sonocon
(version 1.2)
1 pc.
 
Piezoelectric probes:
 
Type and quantity can be changed (or added) by the customer`s request from the applicable probes list (nomenclature), contained in Appendix D
TU U 33.2-14327992-025:2013
- P111-2.5-К12-003
1 pc.
- P121-2.5-50-М-003
1 pc.

Connection cable (probe /electronic unit)
(lemo 00×lemo 1S)



2 pcs.

At delivery of P112 type probes the cable can structurally come with probes.

Connection cable (PC/ electronic unit)
(USB×USB mini)

1 pc.
 
Synchronization cable
1 pc.
Delivered by the customer`s separate order.

Charging device Mascot Type 2542

1 pc.
 
Hand strap
1 pc.
 

Storage battery

1 pc.
 
Storage battery (additional)
1 pc.
Delivered by the customer`s seperate order.
Headphones with microphones
1 pc.
 Delivered by the customer`s seperate order.

Scanning device

 

Delivered by the customer`s seperate order. Type and quantaty are specified in the customer`s order.

 Software for testing results viewing
1 pc.
via E-mail

Case for spare parts and accessories

1 pc.
 
Operation manual SONOCON.14327992.01.13 RE
1 copy
 English
Operation manual Type2542.23535778.001 RE
1 copy
 
Verification certificate
1 copy
If required.
Basic version. Far-abroad countries